4 Pharmacy Imperatives for 2019: Takeaways from ASHP Midyear
I can honestly say that this was one of the best ASHP Midyear meetings I've attended in the last 30 years. The theme of this year's meeting was "Some Midyear Magic". With a nod to nearby Disneyland and an inspirational keynote address from basketball legend Earvin "Magic" Johnson, the real magic of the meeting for me was the opportunity to share and learn about cutting edge advancements in pharmacy.
Interacting with my professional colleagues, I came away inspired and energized by the breakthroughs in patient care and technology, the innovative roles for pharmacists and pharmacy technicians being adopted by both new and experienced practitioners, and by ASHP's commitment to improving job satisfaction and professional longevity.
Prepare for Precision Medicine
One of the most exciting areas of pharmacy practice is the groundbreaking work being done in pharmacogenomics and precision medicine. This emerging area of medicine has become a reality and one of the new frontiers for pharmacists.
In a "Spotlight on Science" keynote address, Dr. Almutairi described how she and her team of scientists have developed new technologies to deliver patient-specific nano doses based on individual patient responses. Other educational sessions focused on how pharmacists can improve patient responses to drug therapy by tailoring regimens based on the patient's' specific genetic markers.
It is imperative that pharmacists increase their understanding of how individual patient genetics will ultimately impact the selection of drug therapy for all patients in the near future. As a profession, we must embrace this new technology and assure that pharmacists are intimately involved in the design of patient care processes related to precision medicine.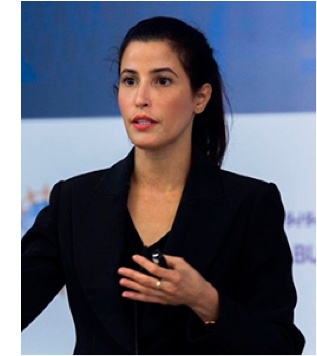 Adah Almutairi, Ph.D.
Professor of Pharmaceutical Chemistry, U.C. San Diego, and Director, UCSD Center of Excellence in Nanomedicine and Engineering
Connect Care Settings
It's no surprise that advancements in healthcare technology and information systems continue to accelerate. The exhibit hall was filled with the latest in robotic technology, comprehensive drug information systems, and new computerized patient care systems.
One theme that stood out was connecting care settings for more effective medication management. PipelineRx joined this conversation with a solution that facilitates a pharmacist-led patient discharge process designed to increase patient adherence with prescribed drug therapies after a patient has returned home.
Educational programming complemented these demonstrations by detailing how technology can be used to facilitate patient medication therapy adherence, improve patient outcomes, and reduce costly hospital readmissions.
Engage in Clinical Programs and Data Analytics
Another recurring theme was the role of pharmacists and pharmacy technicians in new areas of practice such as opioid stewardship, comprehensive care and transitions of care management, ambulatory care, long term care and many others. Data was presented that clearly supports the inclusion of pharmacy team members in these areas of practice resulting in a significant impact on improving patient outcomes.
In addition, pharmacy professionals are establishing their role in the area of data analytics. The combination of clinical expertise and access to large amounts of patient data is allowing pharmacy team members to identify trends that will facilitate the design of therapies and patient care processes that will improve overall population health.
Improve Pharmacy Career Satisfaction
Finally, there was a noticeable focus during the meeting on how pharmacists and pharmacy technicians can improve their overall job satisfaction and achieve an appropriate work/life balance to avoid burnout, advance their careers, and assure professional longevity.
There was also an emphasis on creating a workplace that is welcoming and inclusive to all healthcare professionals and patients regardless of gender, race, nationality, religion or sexual orientation. Several sessions specifically addressed the very timely topic of creating comfortable and productive work environments for co-workers and patients in the LGBTQ community.
The ASHP Midyear Clinical Meeting is always a great way to end the year inspired and motivated for the year ahead, and this year was no exception. New cutting edge therapies and technologies and expanded roles for the pharmacist left me motivated and enthusiastic about the future of healthcare and the profession of pharmacy.
---
Kevin Jones, RPh, MBA, is VP of Pharmacy Services at PipelineRx. He has over 30 years of experience as a pharmacist and pharmacy manager in the hospital, institutional and home care settings, including serving as Director of Pharmacy at Denver Health Medical Center.