Clinical programs and patient safety went up. Costs stayed down.
Ohio Valley Hospital | Kennedy Township, Pennsylvania
Meet Director of Pharmacy, Michael Nan, R.Ph., M.S., who joined OVH in May of 2015. Michael's background is tenured and varied. A former long- term care pharmacist, he spent 12 years with Heritage Valley Health Systems, and prior to joining OVH was with Accredo Specialty Pharmacy.
"Coming from a large, for-profit organization to Ohio Valley Hospital was a financial eye opener," said Michael. "Our smaller organization has more flexibility to get things done, but it was immediately clear that managing operations and expanding services and care would require thinking outside the box."
Thinking outside the box is exactly what Michael and the pharmacy team did.
Learn how OVH used telepharmacy to:
Quickly achieve 24/7 pharmacy coverage for CPOE implementation
Decrease medication cabinet overrides by 85%
Free up on-site staff to implement three new pharmacy-led clinical initiatives
Reduce pharmacist overtime hours
Save more than 50% compared with FTE staffing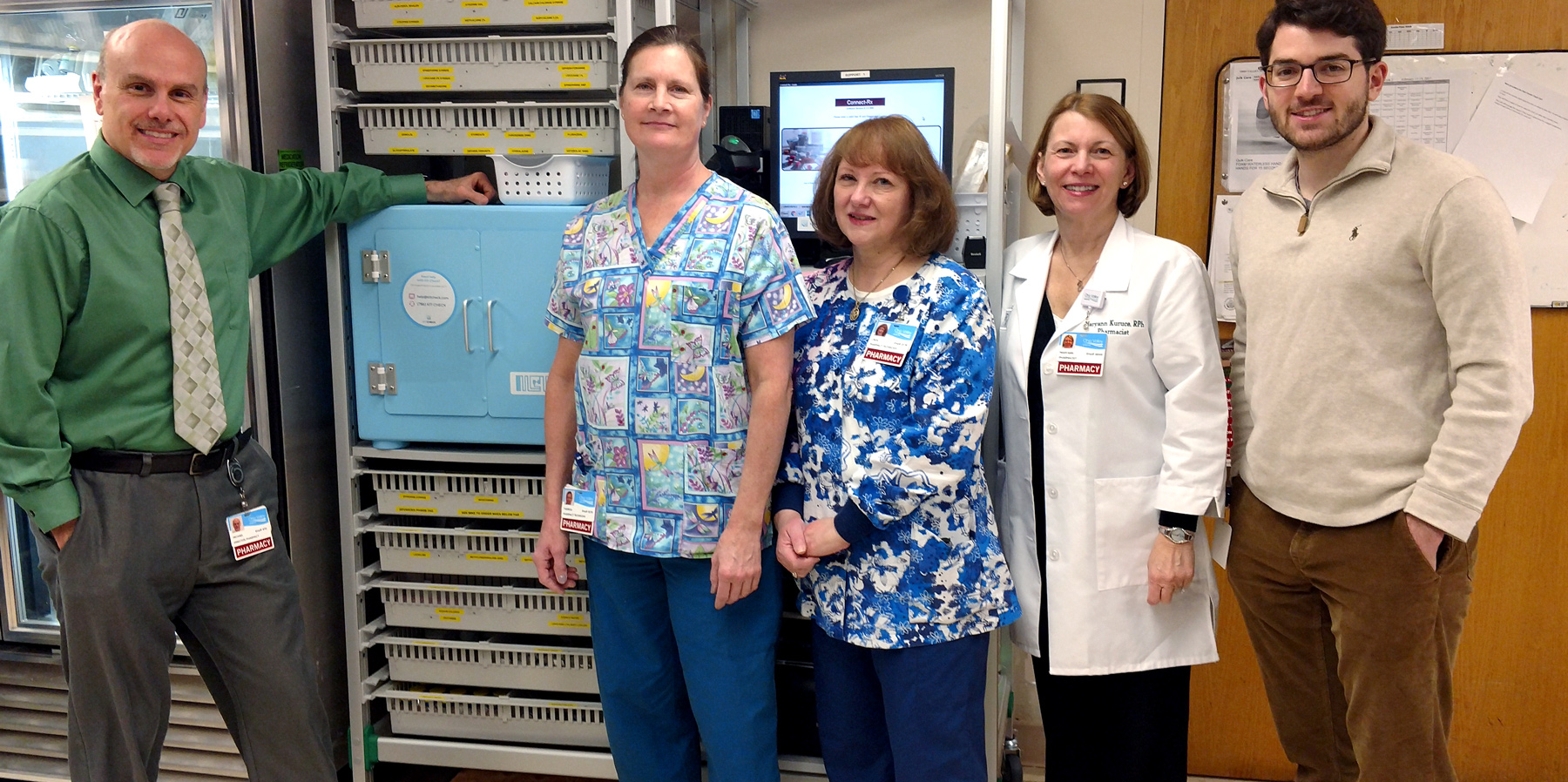 Michael Nan, R.Ph., M.S., and the pharmacy staff at OVH
Getting to 24/7: the challenge
When Michael joined OVH, the team was already working on one of their biggest challenges. They had no pharmacy staff during night hours. Consequently, between the ICU and the emergency department, pharmacy cabinet overrides were averaging more than 500 instances per month. This raised serious concern for patient safety.
With three daytime and one part-time pharmacist on staff, the team had to come in early to manage the overrides prior to starting their regular shift. Playing catch up from the night before and managing orders throughout the day left limited time for OVH pharmacists to focus on development of clinical programs needed at the hospital.
Considering the options
The team began looking for a solution to the challenges they faced. The patient safety officer wanted night and weekend coverage, but the incremental cost to bring in the needed 2.4 additional full-time staff weighed heavy on them. They struggled with the rationale for hiring full-time resources when the volume wasn't always there.
With a CPOE implementation looming, 24/7 coverage was no longer optional, so they decided to investigate Telepharmacy. "Prior to going into this, I'll admit I was skeptical about what telepharmacy could really do," said Michael. "However, the industry has moved forward at lightning speed and it just keeps getting better."
THE BOTTOM LINE
No pharmacy staff from 9:00 p.m. to 6:00 a.m.
Over 500 pharmacy overrides per month raised concerns about patient safety
Time restrictions due to pharmacy workload limited development of pharmacy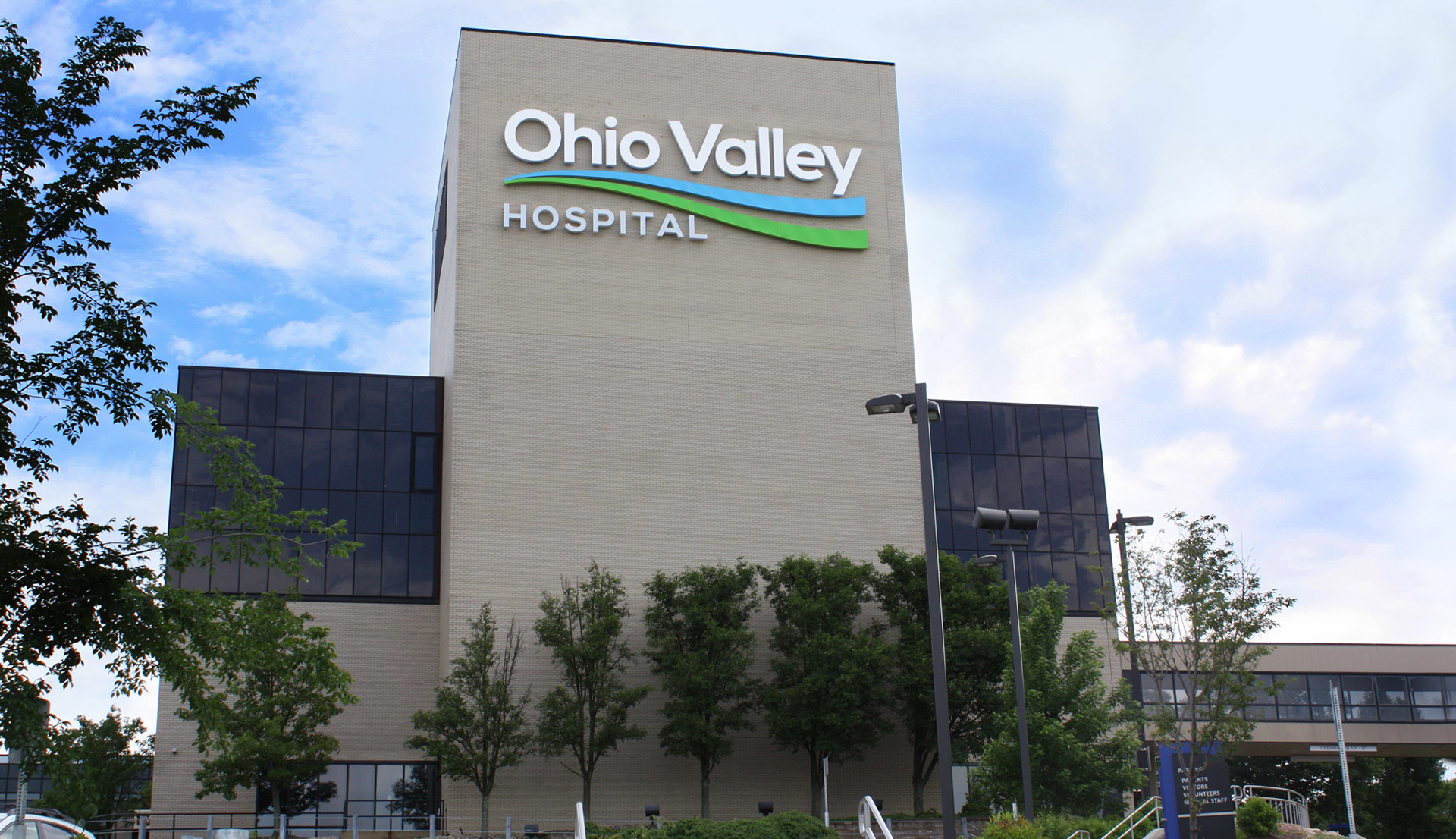 Ohio Valley Hospital (OVH), like many hospitals, is active in its pursuit of continued patient safety and growth of its patient focused clinical programs. But as a community hospital, OVH runs on a tighter budget than many larger hospitals. However, this not-for-profit community hospital has learned a thing or two about how to make a dollar stretch.
Prior to going into this, I'll admit I was skeptical about what telepharmacy could really do... However, the industry has moved forward at lightning speed and it just keeps getting better.- Michael Nan, R.Ph., M.S., Director of Pharmacy
Coming into focus: the solution
Quality and patient safety is top priority at OVH. As they reviewed telepharmacy options, they came down to two finalist choices, one of which was PipelineRx. Concerned with how clinical staff would respond to an off-site pharmacist, they learned that PipelineRx clinical pharmacists staff each client with a dedicated team that would focus on their needs, OVH protocols and Pharmacy Information System nuances. This approach would ultimately make it easier to build relationships and trust.
They had to consider their budget and whether telepharmacy would be cost effective. Because PipelineRx had invested heavily in technology and process, they were not only able to deliver on the needs OVH outlined, but do so in a more cost-effective way than the alternative.
Managing change
The decision was made and implementation started right away. While the implementation process went smoothly; as with all things that require change, there was a learning curve for both the OVH and PipelineRx staff to learn the nuances of working together. The pharmacy team determined that for future projects, more up-front buy in and communication with their staff would ensure that changes would be adopted more smoothly and quickly.
"Learning the nuances of a hospital and their software can take time. Protocols can vary widely so there is a period of gaining familiarity between the pharmacists and the physicians," said Michael. "It's important that hospital staff see the big picture and understand that mindset change is needed for the safety of the patient."
THE BOTTOM LINE
Telepharmacy was a more cost-effective option than hiring full-time staff to extend to 24 hour pharmacy services and manage a variable workload.
Lower cost and a better service model led OVH to choose PipelineRx
Even with a smooth implementation, it's important to consider the time needed for the learning curve for both vendor and staff
Doing all the right things for all the right reasons: the results
As time went on, choosing telepharmacy proved to be a win-win for OVH. They achieved what they set out to do and have realized as much as an 85% drop in medication cabinet overrides. Nurses can get orders through quickly utilizing the 'stat' feature, which has been a significant contributing factor to the decrease in cabinet overrides.
When it comes to clinical decision-making, the nursing and medical staff have sense of ease knowing they can reach a pharmacist at any hour for questions on dosing, compatibility and more. Additionally, rather than coming in early to catch up on all the orders from the night before, the staff now arrive at their normal 6:00 a.m. hour. A simple and detailed End of Shift report is all that is needed to start and end the day, and provide for patient continuity.
However, time and overrides aren't the only thing OVH saved on.
More than cost savings: a seat at the table
You can't ignore the cost savings," said Michael. "Paying by the medication order makes so much sense when there is a variable workload. We are easily saving more than 50% over FTE staffing and have reports that show us exactly what our utilization is. These things make a big difference."
Choosing PipelineRx turned out to be more than just a cost-conscious choice. Michael and the Pharmacy team have now expanded their clinical initiatives to include discharge medication reconciliation, renal dosing and antimicrobial stewardship.
"PipelineRx has helped our pharmacy make a bigger impact on patient care," adds Michael. "Where our suggestions may have been overlooked in the past with the P&T committee, we now have a seat at the table."
RESULTS
85% decrease in medication cabinet overrides
3 new clinical initiatives implemented
More than 50% savings on FTE staffing
We are easily saving more than 50% over FTE staffing and have reports that show us exactly what our utilization is. These things make a big difference. - Michael Nan, R.Ph., M.S., Director of Pharmacy